Featured Product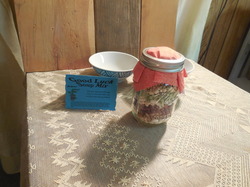 Winter Soup and a SALE
We always make a number of soup mixes in the fall. More than we generallly stock all year. Those soups need to be sold before Spring arrives and people are no longaer interested int eh warming atributes of a bowl of soup, so We are placing our soup mixes on sale. You can find all the available soups in our Etsy Shoppe in the Seasonal Soups section.
We are offering these and all our soup blends and chili mixes for 15% off through the end of Febrary. These mixes range from $3.50 to 5.75 and all will be marked down until Feb. 28, 2017. Use Coupon Code: SOUPY15 when you check out on Etsy to receive the discount!
Here are the highlights:
Autumn Bean Soup – Add chickpeas and spinach to these dry ingredients to make a great cool weather warmer. The seasonings included with the beans are parsley, basil and oregano.
Barley Vegetable - A great bean and barley soup with all vegetable ingredients. It can be eaten vegetarian or with any meat protein. A Hearty vegetarian barley soup to go with fresh or canned vegetables. Great served in a bread bowl. Can be made with or without meat products. Contains pinto beans, split peas, barley, dried onion and herbs.
Lentil - A great vegetable soup mix good on a cold evening or after a day of sledding. Great wintertime soup that can be created vegetarian or with meat protein. Created with lentils and vegetable bouillon it uses Backyard Patch Soup and Salad Herb Seasoning along with thyme, garlic, and black pepper for a robust taste.
Mexican Chicken Soup - Add chicken, hominy and canned tomatoes for a great bean and chicken soup. Garnished with cheese and tortilla chips, this is wonderful and hearty, especially in winter. Full recipe included, so you can use up left overs. Contains:pinto beans, white & wild rice, cumin, garlic, BYP Bean Soup blend: onion, black pepper, chili powder, garlic, basil, chives, coriander, lavender, lemon, marjoram, tarragon, oregano, parsley, rosemary, fennel, garlic, sage, thyme, savory, allspice, ginger.
Minestrone Soup - Perfect hearty bean and noodle soup for any occasion! This recipe is long on flavor. A traditional soup mix creates a hearty and vegetable rich soup. Add beef or sausage and fresh or canned vegetables to create a minestrone your family will gobble 'til its gone. The recipe is included and can be made with or without meat products. Contains kidney beans, spilt peas, wagon wheel pasta, dried onion and herbs.
Mulligatawny Soup - This recipe was imported from India in the 1890s. A seasoned vegetable soup that is served over rice with a crusty bread for a rich meal and a great winter dish. Blend contains rice and seasonings, including flour, curry and nutmeg. Can be made with cooked chicken or crab for a more substantial soup. Either way it is a great meal on a cold day. The recipe is included to make a vegetable soup in less than an hour.
Multi-Bean - Many different beans with just a hint of chili powder makes this a wonderful winter warmer. A traditional 10 bean soup mix that makes a rich & robust soup that is high in protein and can be crafted with or without meat. A recipe is included to craft this wonderful soup. Contains: kidney beans, spilt peas, lentils, navy beans, black-eyes peas, white northern beans, pinto beans, lima beans, brown beans, black beans, dried onion and herbs from out DO-IT-All Seasoning blend.
Green Split Pea Soup - A twist on an old favorite which uses pasta for texture so you do not have to make it into a puree. This recipe has green split peas, pasta, lentils and herb seasonings.

Yellow Split Pea Soup - Unique version of an old favorite very high in protein and good made vegetarian or with a ham bone. Contains green and yellow split peas, pasta, lentils, and herbs.